I love beets, all kinds of ways, and I know I may sound biased when I say this, being President of my mom's fan club, but this is the best way I've ever had them. She develops a fan base far beyond the reaches of our family wherever these are served. The mix of spices creates a delicious sauce, for sure, but the best part is that the beets are actually so great soft. It seems that usually beets are served raw or roasted, rarely cooked 'till tender. Here, stewed down in this curry, they are perfect.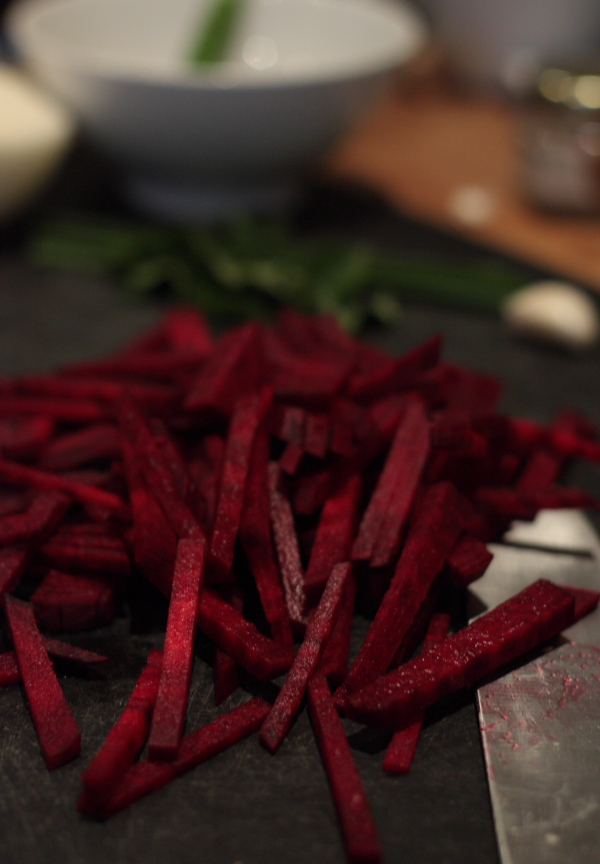 Photos by James Piper.
You can visit a South Asian grocery store to pick up rampe or pandan leaves as they are also known. That's the only ingredient in this recipe you may not be familiar with. Once you have your ingredients assembled, you can make the rest of this recipe with your eyes closed.
Eat them over rice, with any other curries. The sauce that creates when the beets mix with the curries from, say, a pumpkin or fried eggplant variety will have you licking your plate. And if you're looking for information on fan club membership once you make this, you can write to my mom c/o me.
Mom's Beets
4 medium beets, peeled (with or without leaves), stems and leaves separated
1 small onion roughly chopped
1 green chili, sliced
8 curry leaves
1 3-inch piece of rampe (pandan or screw pine leaves)
1 1/2 tsp kosher salt
1 tsp ground cayenne pepper
1/2 tsp fenugreek seeds
1/4 tsp ground turmeric
1 can (400 ml) of coconut milk
Julienne the beets into large matchsticks. If using stems and leaves, chop stems, pile leaves on top of one another, roll them up, slice crosswise and set leaves aside. Put the beets and stems in a medium pot and add all of the dry ingredients, except the beet leaves. Add half of the coconut milk and stir to mix well. Cover and cook over medium-high heat to bring to a boil. Then lower the heat and simmer, uncovered, until beets are slightly softened and most of the liquid has evaporated (about 25 minutes), stirring occasionally. Add the remaining coconut milk and the beet leaves. Stir and cook for about 5 minutes more. Serve over rice.
Makes 4-6 side servings, or 3-4 large servings.
This story and recipe appear in RED, Issue 001 of Le Sauce Magazine.